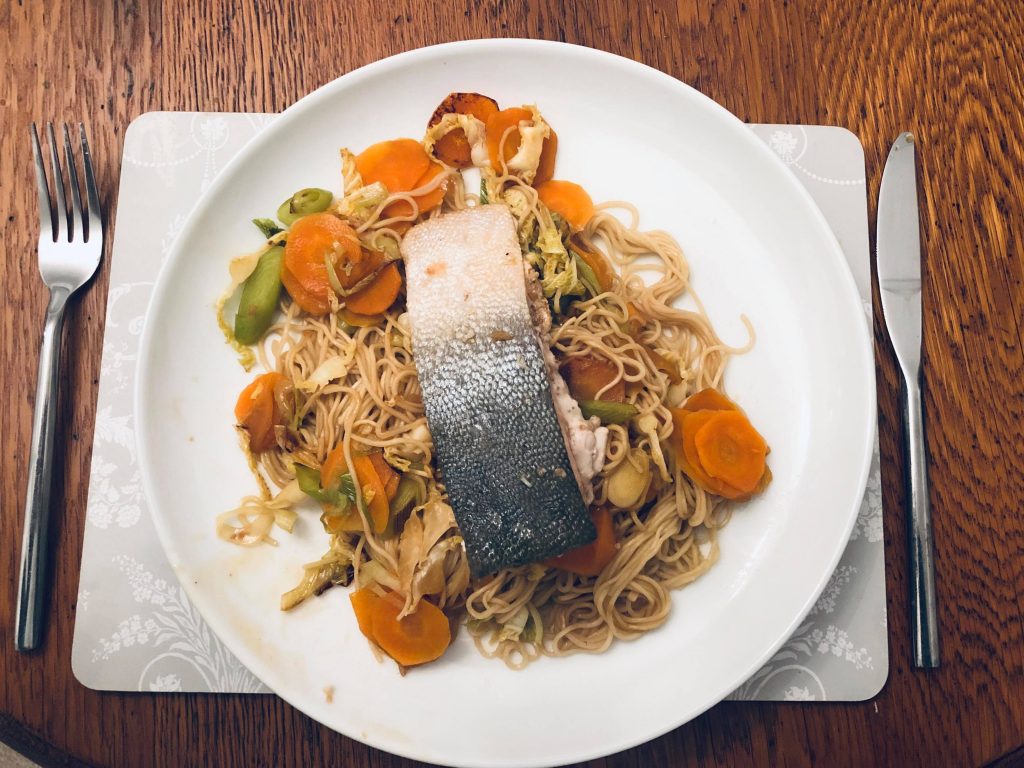 Good Food Great Hair
Teriyaki Salmon with noodles and stir fry veg
2cm ginger, finely chopped
2 garlic cloves finely chopped
3 tbsp soy sauce
2 tbsp maple syrup
1 tbsp mirin or rice wine vinegar
fry oil
4 salmon fillets 
(packed with omega-3 fatty acids, which prevent dry scalp and dull hair)
1 Large carrot, finely sliced
(Makes hair, stronger and lustrous, but also protect it from external factors that can cause damage, such as pollution. Since carrots boost hair growth and improve blood circulation, it also works to prevent breakage and shedding)
1 leek, finely sliced
(contains iron and manganese that help improve hair growth)
100gms Cabbage, finely chopped
(rich in sulphur and vitamin A which are both known to stimulate hair growth and the antioxidant properties can prevent the loss of hair from the scalp)
Fine noodles 
Preheat oven 180c
Mix the ginger, garlic, soy sauce, maple syrup and mirin.
Place the salmon into an ovenproof dish, season with salt and pepper and pour over the dressing. Cover with foil and set aside to marinate for 20 mins. Place in oven for 25 mins.
When cooked remove from oven an set aside.
Place noodles in boiling water cook for 4 mins (as per packet). When cooked drain.
Heat wok with 1 tbsp oil stir-fry carrots, leek and cabbage for a few minutes. Add noodles and the remainder of the marinade from salmon, stir through.
Serve salmon on top of stir-fried noodles.
Back to news